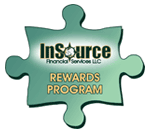 The founders of InSource Financial Services LLC each come from extensive backgrounds in the management, rehabilitation, and re-sale of bank owned assets and have spent many years working in various areas of the industry. As a result, they have detailed knowledge and a keen understanding of the qualities that denote an exceptional broker. InSource Financial has developed an elite network, comprised of such brokers, to assist in the valuation, management, and disposition of REO assets throughout the country.
InSource Financial has always acknowledged the invaluable contribution of REO brokers to its continued success. We have been fortunate to work with many preeminent brokers who have performed well beyond expectations. Many of these associations continue to flourish, and are essential to the InSource Financial business model.
InSource Financial is also continuously forging new alliances with emerging talent in the real estate industry. Opportunities to work with InSource Financial are not necessarily limited to the biggest real estate office in a service area. A company's ability to produce sheer volume is never a substitute for accuracy, concern for the buying public, and regard for the reputation InSource Financial has built.
InSource Financial seeks out brokers who understand the industry from a global perspective and adhere to ethical standards that are above reproach. Brokers who are part of InSource Financial's network utilize creative marketing strategies while always conducting themselves with the utmost integrity. We rely on our business partners not only for reliable information, but also for the comfort level that comes with qualified and professional management of our assets.
InSource Financial is happy to give back to the broker community through our InSource Rewards Program. This program is a referral incentive initiative designed to compensate individuals who facilitate new buying opportunities for InSource Financial. Please follow the link below for more information.
InSource Rewards Program - Click Here
If you are interested in becoming an approved broker with InSource Financial, please follow the link below and complete the Broker Application.